Wiring Explained
At worst, faulty electrics can be a serious fire hazard and can lead to electrocution and a potentially fatal accident. This is why electrics were brought in to the building regulations under Part P. Existing wiring installations are not covered, but if you make significant alterations or new additions to the wiring in your home, the regulations come into force.
If you are thinking of buying a property more than 25-305 years old, it is important to check that the wiring is up to date before you buy. Ideally, you will get an idea of what work is required and an estimate of the likely cost so that you can take this into account when assessing the feasibility of the project and how much to offer. Even if you already own the property you are renovating, it is important to know early on if any rewiring work will be necessary, as it can be very disruptive to the fabric and decor of the building, and so is best completed early on, before any re-plastering or redecorating work takes place.
If a property has not already been rewired within the last 25- 30 years, the chances are it will need upgrading at least in part in order to bring it up to current standards. If you plan major remodelling work that constitutes a material alteration as defined by the Building Regulations, it is likely that you will need to rewire part, if not all, of the property, including upgrading the consumer unit (fuse box). If you are extending your home, or converting an attic or garage, this will constitute new work and therefore all of the new wiring will have to conform to Part P: Electrical Safety, and all existing wiring will have to be improved to ensure that it is able to carry the additional loads safely, it is earthed to current requirements and that cross bonding is satisfactory. The rest of the existing wiring does not have to be upgraded, except where upgrading is required by the energy efficiency requirements of the Building Regulations, i.e. central heating controls.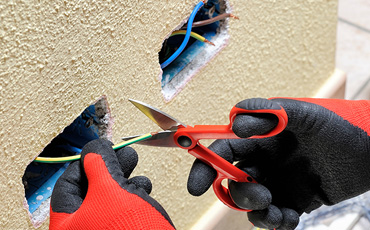 You should be able to tell if a house has been rewired recently by inspecting exposed parts of the wiring and by the electricity meter and fuse box (now known as the consumer unit). You can ask to do this when being shown around a property you are thinking of buying, or by inspecting your home. If there is an oldfashioned- style fuse box, with big white ceramic- style fuses, then the chances are that the property needs completely rewiring.
With two or more sets of circuits, it can be very difficult to know if all of them have been disconnected when undertaking work and this is unsafe. Another tell-tale sign that a rewire may be necessary is a mix of different socket and switch styles. This could indicate that a partial rewire has taken place, especially if there is evidence of surface-mounted wiring running along skirting boards and up walls.
In some rare cases of properties that have not been renovated in decades, you may still find example of old round pin sockets or original dolly switches, both of which are a sure sign that a rewire is necessary.
Another clue is the colour and style of the cabling, which you should be able to see at light fittings, around the fuse box. Modern electrical installations are wired in PVCu insulated cable coloured grey or white. Unless the wiring is the modern PVCu coated type, then a rewire is likely to be necessary. If you see any old rubber insulated cabling, fabric insulated cabling (used until the 1960s), or lead insulated cabling (used until 1955) then it needs replacing as the insulation can rot and/or break down, leading to short circuiting: a fire hazard and potential electrocution.
Even older PVCu cable may need replacing if it is not twin earthed cabling (with a second earth cable running within the outer sleeve), but this may only be evident if you are able to remove a switch or socket faceplate and look closely.
Checking for this conducting the viewing, and certainly is not advisable unless you are able to turn off the mains first.
If you are in any doubt, assume that a total rewire is required and budget accordingly. It may be that the system can be improved for less money by upgrading earthing and cross bonding.
If you proceed with the project, then before exchanging contracts you can arrange to get a qualified electrician to do a survey and find out exactly what work is required. An electrician will typically charge £100-150 for a survey with a verbal report. A full electrical survey with a written report is likely to cost £250-350. Our Manchester electricians carry out NICEIC inspections starting at £75.00 on a one bedroom property.