Emergency Lighting
If your commercial property hasn't had a Periodic Inspection for its emergency lighting within the last year or is due for an inspection - call us today as your log book could be out of date!
Shops, offices and other premises previously excluded from legislation require the installation of additional emergency lighting to satisfy the Emergency Lighting and the New Fire Safety legislation – the Regulatory Reform (Fire Safety) Order 2005. Not only must premises contain emergency lighting and escape route signage, the equipment installed must be the correct type, installed in the correct location and satisfy the requirements of BS 5266.
On completing or change of an emergency lighting system installation, an Emergency Lighting Test Certificate should be supplied to the occupier/owner of the premises. A copy of this certificate would be required by the enforcing authority.
Ongoing a yearly inspection of your emergency lighting is required and a new Test Certificate issued at intervals of no more than 1 year.
So if you have just completed an installation or your certificate is due for renewal, call us today and do not risk the consequences of a failing or uninspected system.
Our Manchester electricians can provide an effecient inspection anywhere in the UK and don't forget, with our Manchester electricians you'll receive are guaranteed level of service at a very competive price for your Emergency Lighting Inspection.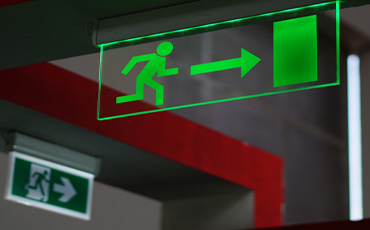 Our local Manchester electricians are all NICEIC registered and carry out all types of work, domestic, commercial and insdustrial. Our electricians have years of varied experience. From installing a single socket to refurbishing work for large shopping chains.
Over the last few years, one of our biggest contracts was converting a national shopping chain from flourescent to LED Lighting. Our Manchester electricians show the same dedication to work in the installation of a single lightbulb as they do to our national contracts. That is because we believe, every customer is our first priority.