NICEIC Competent Person Registered.
Competent Person Schemes (CPS) were introduced by the UK Government to allow individuals and enterprises to self-certify that their work complies with the Building Regulations as an alternative to submitting a building notice or using an approved inspector.
A Competent Person must be registered with a scheme that has been approved by The Department for Communities and Local Government (DCLG).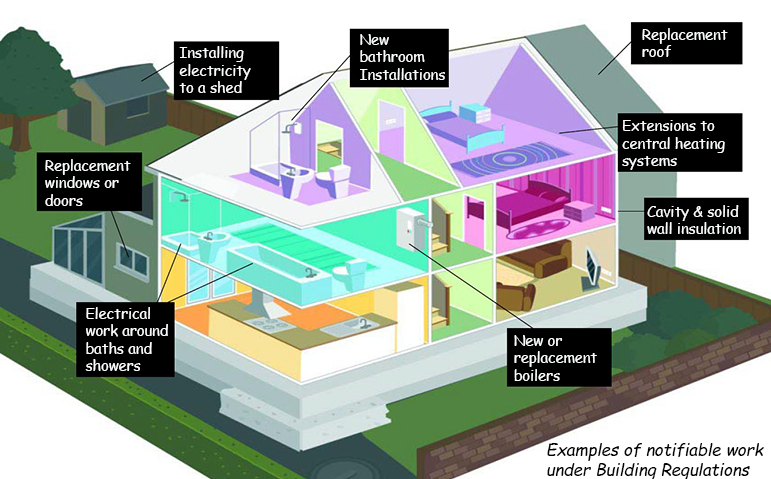 What will happen if I do not comply with the Building Regulations?
If you do not comply the work will not be legal. You could be prosecuted and could face a fine of up to £5000.
The work may not be safe, could cause health problems, injury or even death. It may also not meet energy efficiency standards.
If work is found to be faulty your Local Authority could insist you put it right at your own expense.
If the work has not been notified to a Building Control Bodyor carried out by a Competent Person Scheme registered installer the Local Authority will have no record that the work complies with Building Regulations. These records will be important when you come to sell your home as you may be asked to provide certificates of compliance with the Building Regulations.
Why should I use an installer who is registered with a Competent Person Scheme?
An installer registered with a Competent Person Scheme is qualified to carry out specific types of work in accordance with Building Regulations and should both notify the local authority of the work and issue you a certificate of compliance with Building Regulations either directly or through their scheme operator. If you do not receive a certificate within 30 days of completion contact the Competent Person Scheme operator that your installer is registered with and they may be able to help you resolve this.
If you do not use an installer registered with a Competent Person Scheme then you will have to submit a building notice or full plans application and pay a fee to have a Building Control Body come and inspect the work you have carried out.