Manchester electrician lighting
Outdated lighting in a large commercial or industrial building can be responsible for the majority of the onsite electricity usage. Up to 80% of this energy could be being wasted needlessly through inefficient lighting equipment
The cost and disruption of maintaining an existing lighting system can be reduced dramatically. Replacing lamps at high mounting heights may involve hiring expensive lifting equipment and/or contractors. New lights can provide 5-10 operational years between lamp changes .
New lighting can address existing health and safety issues such as: ensuring that CIBSE lighting levels guidelines are met, eliminating dimness in dangerous working areas, lowering exisitng glare, replacing the risks associated with older, unsafe electrical equipment etc. This can protect a business against liability and bring a site up to scratch as an example of best practice.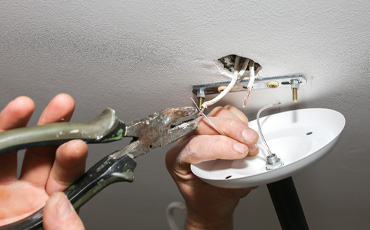 Improved staff productivity and a more comfortable working environment can be achieved when areas are lit brightly enough and/or given a more suitable "quality" of light for the work being undertaken (white, daylight quality for visual inspection etc.). Other benefist include the ability to get full light brightness instantly (no warm-up or restrike time)
PROTECT YOUR CAPITAL BUDGET
New energy saving lighting systems may qualify for Carbon Trust financial assistance. A business may be able to avoid making any capital outlay, only paying as savings are made. This allows capital equipment budgets to be reserved for other onsite upgrades.