Fuseboards aka Consumer units
The fuseboard or consumer unit is the most important part of an electrical installation, protecting us against electrocution and fires in the home and at work.
In the event of an electrical fault occurring a consumer unit is designed to disconnect the power supply, having an old style, outdated or unsafe consumer unit can have severe consequences causing injury, property damage or even death.
Modern 17th edition consumer units with incorporated RCD (Residual Current Device) Protection when correctly installed are designed to protect humans and all livestock against electrocution and some protection against fires.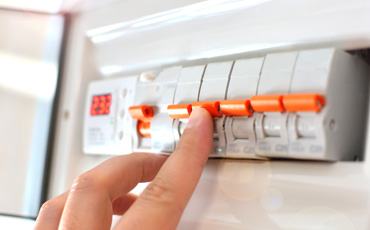 A consumer unit installation or upgrade should always be carried out by a competent and registered electrician. All our electricians are NICEIC registered electricians.
Prior to changing a fuseboard we always recommend you carry out a full electrical condition report is carried out. There are usually no problems in replacing an old fuseboard, however there may sometimes be issues with existing wiring which might cause the new style consumer unit to continuously trip out leaving you without power.
The only way to determine whether your existing wiring is in correct operational condition is to carry out an E.I.C.R (Electrical Installation Condition Report). This will also outline any recommendations and additional costs in order to bring the installation to a satisfactory condition.